A Seedbox Server is required if you are a digital nomad who downloads/uploads digital files frequently from/to the internet. In The Initial days, Seedboxes were designed specifically for transferring files faster using the Bittorrent protocol. However, that changed in recent times allowing you to utilize any other file transfer protocol that is available on the internet. They have the necessary CPU, RAM, storage, bandwidth, and apps to allow you to download files quickly, safely, and remotely. We'll discuss when and how to use a seedbox in this post.
When Should You Use a Seedbox?​
A Seedbox should be considered by any internet user who wants to use the technology quietly, comfortably, and at fast speeds. The average user is likely to be satisfied with first-class seedbox packages, which typically cost a few dollars per month. Seedboxes have a more intriguing application. Seedbox is a good option if you want to distribute your own content without paying a lot of money for hosting. Simply install any self-managed hosting application like Nextcloud on your seedbox and upload your own files that you want to distribute and nextcloud will generate a simple HTTP link for easy sharing. Then you can share the link via your website or social media. To view and/or download your files, your users can open the shared link from their favourite browser.
You may also create a torrent metadata file (.torrent) of your own files that you want to distribute and share it via your website or social media. Then, to view your files, your users can utilize a seedbox or a locally installed bittorrent client on their desktop PC.
Seedboxes are useful for downloading any remote files using HTTP/FTP/SFTP/Usenet/Bittorrent protocol. A VPN is arguably a better option if you merely want to be anonymous. VPNs are less expensive, allow you to bypass geo-restrictions and/or ISP level restrictions, and are suitable for all forms of internet traffic.
Otherwise, it all comes down to how frequently you download/upload files. Downloading files to your own device consumes hard drive space and bandwidth, and it requires your device to be turned on for prolonged hours which eats up your electricity bills. A seedbox solves all of these problems, and the cost may be worth it if you're serious about your file transfer activities.
How to use a Seedbox For File Sharing?​
Seedbox suppliers may easily be found on the internet. Although each seedbox has its own set of instructions, most seedboxes work in a similar way. The following is a step-by-step approach to using a seedbox.
Using the web console: You'll receive a welcome email with account details after signing up for a seedbox. You will have access to a web interface with these credentials (the Seedbox Control Panel).
Find out how to get access to information: All active seedboxes will be listed on the seedbox management panel, together with their access information (credentials and IP), applications (FTP, VPN, etc.), and utilization. Invoices and other services are also likely to be found here.
Access your seedbox from afar: You'll have to access it in one of two ways, depending on the sort of seedbox (and application) you have. A web interface with an IP and credentials is the most typical way to access a seedbox's Application/Bittorrent client. However, if you have a full VPS seedbox, you may need to access it via SSH, Telnet, Remote Desktop, and other methods.
The content is available for download: You can either download the content to your personal hard drive or stream it directly for instant use. If you want to download the content, you can use file-transferring protocols like SFTP, FTPS, HTTP, or RSync. Install FileZilla or another file transfer program on your computer, enter the provider's credentials, create a session, and download the content.
Sharing the content: To share your own content, simply install any self-managed file hosting application such as Nextcloud, Pydio etc. Then
You can either download your files stored on a remote network (such as Google Drive, Onedrive etc) to your seedbox.
Or, upload the files directly from your computer.
Once the files are available locally on your seedbox, then you will be able to generate a link for sharing on your website or on social media.
How to use a Seedbox for Streaming?​
Seedbox is one of the best and safest methods to interact with digital files, because it does more than just download and upload digital files. Seedboxes were designed with that purpose in mind, but over time, firms have added features to them.
Applications, remote management, file sharing, folder sync, and other features are among them, with file streaming being the most prominent.
Streaming allows a simple seedbox to be transformed into a remote media server. There are built-in applications for streaming videos, such as plex, emby and jellyfin, but did you know that you can also stream videos through the popular app VLC media player?
Plex is a streaming server that lets you watch your audio and video files remotely in your browser, similar to Youtube. This automated setup allows you to use your seedbox to download media files and watch them straight on your Plex Media server.
Install the VLC media player on your computer or mobile device: Although this is an apparent step, it is nevertheless worth mentioning. VLC is a popular media player that has been around for a long time.
With the introduction of streaming services like Prime and Netflix, VLC's popularity is dwindling, but it remains unique.
To use VLC media player for streaming media files: navigate to the Media > Open Network Stream option of the VLC media player after you've downloaded it.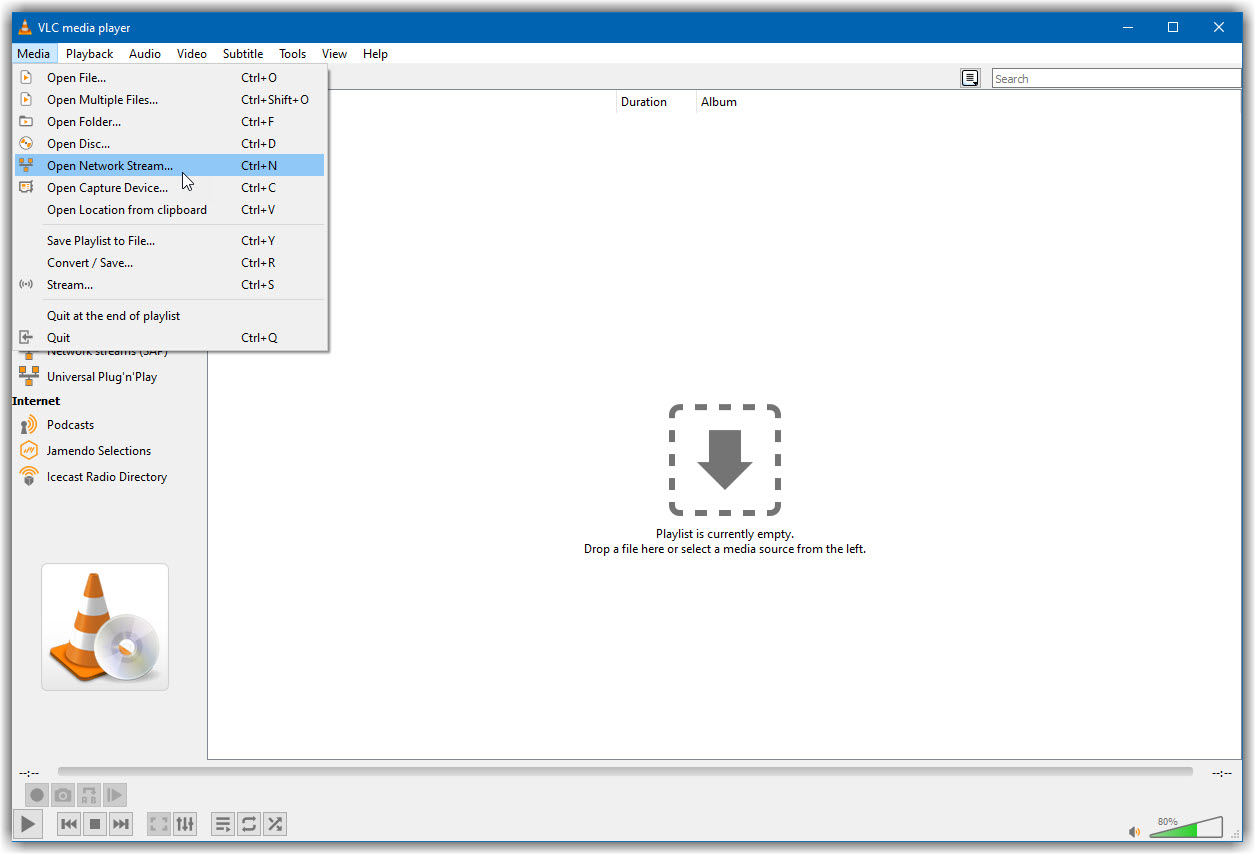 VLC's Open Networks: A pop-up will display when you click on Open Network Stream option. click on the network section to view a blank text space. This is where we'll paste the link to our seedbox-hosted file.
Copy the file's URL from Seedbox: Open your seedbox, and then use Direct HTTP access to open the file you want to stream. Locate the file you'd like to steam, right-click it, and copy the link address.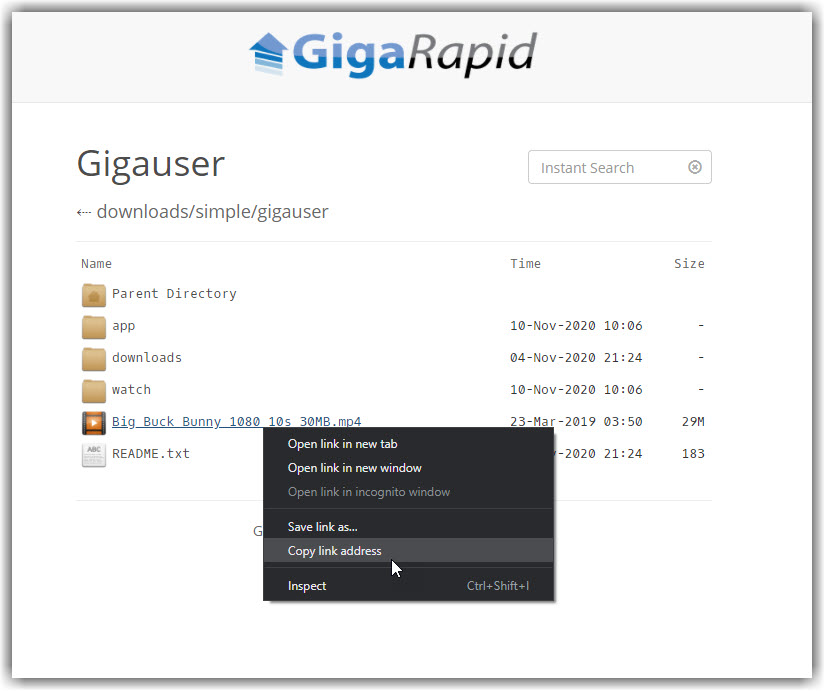 In VLC, paste the link into the network URL field: In this section, paste the link. This is a crucial step to take. The stream button will appear in the pop-up. However, if you click on the arrow next to it, a drop-down option will emerge. Wait for your movie to start playing once you click play.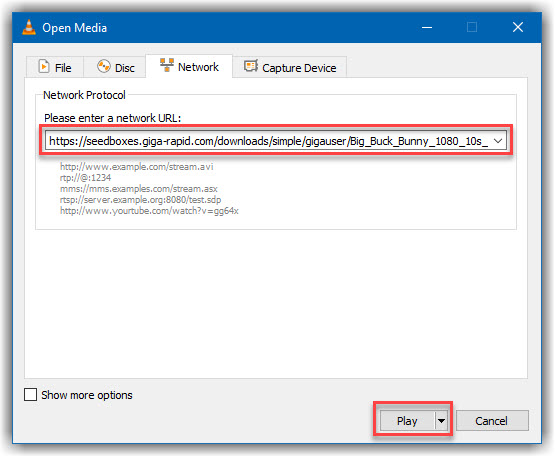 Final Thoughts​
It's vital to stay up to speed on your seedbox provider's latest features to get the most out of your seedbox experience. You can ensure that you always have the most up-to-date information on how to keep your seedbox running as quickly and safely as possible by conducting research on the instruments you use. Most seedbox providers will feature a chat room or a support desk where you can express any questions or troubles you have as you get started.